Are you looking longingly through Instagram feeds of gorgeous (but sold out) kits, perfectly prepped December Daily projects and dozens of digi Christmas kits? Do you start each December hoping to add a cute album to your shelf?
I do! I've bought nearly every Christmas Kit Flergs and Kristin Cronin-Barrow have released, and talked to dozens of scrapbookers about their Christmas scrapbooking processes on the December Daily inspiration podcast.
Whether you want to document the highlights of your Christmas season or document every day, thinking through the different options can help you nut out the sweet spot for documenting your festivities.
December Un-Daily
Did you know you don't need to do a December Daily project to scrap you Christmas? Yes, it's true! Take a moment to think about what you'd like to achieve. Picture how you want your album to look at the end, and then about the types of stories or memories you want to capture. Maybe a Holiday Faves or an†ongoing Christmas Album that you add a few pages to each year. You can still buy and use some fun supplies!
I've love Ali Edward's approach to December Daily, "For me this is a one-story-per-day project." Not necessarily a Christmas event, but a little moment she wants to capture.
I, on the other hand, seem drawn to documenting a whole day. Whenever I try to just focus on one thing in the photo choice for the day, I end up writing it all in the journaling too! That's OK. I know that I like to document the days, rather than a specific story. So I'm running with that.
Another option is to just make a layout summarizing the feel of a number of years, or that whole Christmas season. I used a photo from 2003, to sum up my Christmases growing up.
What Format Works for You?
The size of the project can have a direct impact on the amount of time it takes you to complete it. For many people, a larger page takes longer to complete. So if time is an issue you could try to emulate Ali Edward's 2012 album. With a small 4×6 footprint, it may help speed up the process.
I've tried 12×12 pages in digi and 6×6 pages in paper. When it came time to print my albums, the smaller 8×8 photobook are the sweet spot for me. I love that my photobooks take up a lot less space than the paper album.
Have you tried a few different formats? Which works best for you?
Photos
Whether your Christmas is in the blazing summer like mine or in the middle of winter, we all have photo challenges. Messy backgrounds, bad lighting, less than stellar phone photos. I've come to accept not all of my photos will be brilliant.
My simple solution is to:
Take lots of photos
Use a tripod (or use auto shake reduction in PSE!)
Adjust the levels in my photos or run them through Radlab.
A quick bit of photo triage and I can select the best photo and run with it.
Foundations, Templates and Winging it
Our paper-scrapping sisters are in a frenzy of cutting and pasting, and filling pockets right now. As digi scrappers, we have a couple of options templates, pre-making foundation pages and winging it!
I've been working with templates from all over the digi community for my albums:
2009: Jessica Sprague's Holidays in Hand.
My own templates to make a December Daily and I used them again in 2011.
2012, I was swept up by the cuteness of paper mini albums and ordered Simple Scrapper's Holiday Kit to try my first paper December Daily.
2013 I used Nettio's Holiday Faves templates.
2014, I create my own designs on each page using a digi foundation file I created.
2015 I used Janet Phillip's templates that were part of the Digi File last year.
I've learned a few things from all these templates.
I love lots of photos, and always seem to add more.
I keep buying templates with square photo spots, but I prefer rectangles
I buy more kits than I can use! (Even though I usually mix and match a couple of kits!)
I've never found embellishing ahead of time helpful.
I like that templates can make my scrapping faster, especially when I have enough photo spots! In 2016, I'm planning to select a background paper I'll use throughout the album, and just create my pages on the fly. I think this will help me to avoid my ongoing fight with square photos and rounded corners!
Journaling
In 2009, I followed along with Jessica Sprague's Holidays in Hand class. I printed off her daily documentation sheets, and even lugged them with us on our seven hours driving, and then seven hours flying across the country. I dutifully wrote out my journaling in response to each prompt. And then did nothing with it.
Ali Edwards has a great list of† December story inspiration†ideas from a few years back that may inspire you.
In 2011†I used simple prompts again, and documented the daily journaling on my blog.
Traditions
Listening
Singing
Decorating
Remembering
Watching
Organising
Buying
Giving
Eating
Realising
These prompts made blogging easy, but I still went back and added even more when it came to scrapping! I can't bear to leave out the who, what and when!
In 2012, journaling in paper seemed fast for me, but using a 4×6 photo on a 6×6 album size left little space. As much as I loved the paper album in the end, I just couldn't put aside the nagging feeling. What if it got ruined? With digi I can always reprint it!
I've also enrolled in†Journal your Christmas by Shimelle Laine and that inspires me to draw on my past Christmases in today's journaling.
Overall I find that I use mostly factual journaling, along with a few anecdotes to explain the back story of one or two traditions each year in my album. What do you enjoy?
When to Scrap
If you are doing a December documentation project like December Daily, it can be fun to join in with the community and scrap along. In 2010-2013, I tried to do that with varying degrees of success. I always enjoy scrapping the first few days of December, even if I don't continue.
If you want to savor the season, why not write a few notes, take photos now and scrap later?
In 2014 and 2015 I followed along with†Alice Boll's Scrapbook Christmas in January. Alice emails prompts to take photos daily up until Christmas and then we scrapbook them together, in January. I have stayed motivated to finish my albums thanks to this class!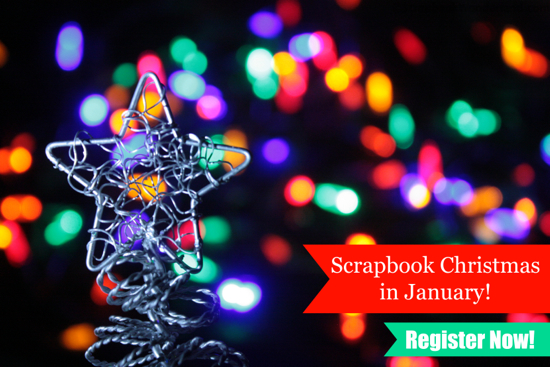 What Makes Me Happy
I've discovered:
I like documenting what our days look like
I love the look of square photos, but I really prefer a full frame in my scrapping
I like simple backgrounds and lots of photos
I prefer digi over paper
I don't mind finishing the album later than December
What do you enjoy? How can you make it part of your scrapping this Christmas?